11 effective ways To Increase OTA Bookings..?
Dear Friend We Will teach you 11 effective ways How To Increase OTA Bookings..?
OTA bookings have emerged as a significant source of hotel revenue and for good reason. Customers don't have the time to search for each and every hotel website. It's time-consuming as well and not optimal. This is where the OTA's come into the picture. Hotels have to increase OTA bookings to remain strong in business.
OTAs list all the hotels based on location, category, price, and amenities. It not only makes it easier for customers to check out hotels, but it also helps the hotel businesses to be visible to the customer. OTAs help in promotions.
The property manager will help you manage your listing and promos. That's why most hotels try to increase OTA bookings to generate more hotel revenue.
1. Optimize OTA Content
Your Hotel's OTA listing is like a CV or a dating app profile. It should look stunning if you want guests to even consider your hotel as one of the options. Make sure your text and pictures are optimized to offer the best experience to those viewing your listing.
Use proper headers and images on the OTA listing. All the relevant amenities should be listed and highlighted. Images of rooms, amenities, spas, bars, restaurants, swimming pools, saunas, etc need to be categorized for the guest to properly view them. This is the first step in increasing OTA Bookings for your hotel.
2. Maintain Hotel Rate Parity
Hotel Rate Parity is essential for business trust and efficiency. OTAs will rank your hotel higher if maintain rate parity across the various platforms. Also, keep track of all the discounts and ensure that there is no disparity in hotel discounts.
Sometimes OTAs launch discounts on their own to attract more customers. This can lead to hotel rate disparity and can lower your listing's ranking. Maintaining rate parity is essential for increasing OTA bookings.
3. Flexible Cancellation Policies
Cancellation Policies are an essential component of hotel revenue management. A proper cancellation policy is essential if the hotel wants to increase OTA bookings for hotels. Hotels need to be flexible with their cancellation policies.
Keeping a harsh and non – non-refundable cancellation policy will be a barrier between the hotelier and the hotel guests. Hotels should keep a lenient cancellation policy during the off-season and have a less generous policy during the peak season.
4. Ensure Future Availability
Many hotels only take a short-term view of hotel bookings and do not check the long-term availability of rooms. Many people plan their holidays in advance. Not having your hotel bookable for future dates can impact hotel bookings. Ensuring availability for future dates can help hotels increase OTA bookings.
5. Create Offers And Discounts
Guests love discounts and so does the OTA! You can create various discounts on the OTA platforms to increase OTA bookings for hotels. Offering great discounts and offers will be viewed favourably by the OTA algorithm.
There are several types of discounts that can be offered. Early bird discounts, long weekend deals, happy hours, loyal customer deals, and free early check-in/late check-out are some great deals to increase your hotel revenue. However, these need to be consistent on all OTA platforms to improve rankings.
6. Strategizing For Peak Season
Every hotelier needs to be aware of their peak seasons if they want to increase hotel revenue. Hotel revenue strategies can be altered and adjusted only when the hotels have knowledge of their revenue seasonality.
Peak season and Off-Season require different strategies. Adapting hotel revenue strategies based on seasons can help increase OTA bookings for hotels.
7. Make Use Of Hotel Technology
Hotel technologies have now emerged as a saviour for hotels. With the help of hotel technology, you can increase your operational efficiency and increase OTA bookings for hotels as well!
Some of the best hotel technologies are:
Channel Manager – They help in organizing all the booking channels into one platform. Rates and room inventory can be managed on one platform with the help of the Channel Manager.
Property Management System – A property management system helps in managing all the operations, bookings, reservations, and bill settlements. It can be integrated with the channel manager to gain more OTA bookings and direct bookings as well.
Revenue Management System – Revenue management is an integral part of hotel operations. A revenue management system can help you change rates and also detect bookings to increase or decrease the price accordingly.
Rate Shopper – The rate shopper helps in getting the rates of your own hotels and your competitors. It helps in checking rate parity as well as comparing your price with the competitors.
8. Managing Hotel Reviews
Hotel reviews form an essential part of customer relationship management. Reviews on OTA sites can make or break your hotel. A customer will always trust reviews over what you say. That's why it is essential to improve hotel reviews as well as weed out fake ones.
You need to also reply to these reviews in a timely fashion. If a guest leaves a positive review, you need to thank them for it and ask them to come again. If they send a negative review, you need to immediately respond and look into their grievances. This way, you will be able to increase OTA bookings for your hotel by making it attractive for guests.
9. Know Your Competitors
The hospitality industry is quite competitive. You need to be several steps ahead of your competitors. One of the effective ways to increase your hotel's OTA bookings is to check their listings on OTAs and understand what they are offering. Perform a Composite analysis to understand your rivals. Understanding them is the first step toward beating them.
10. Hotel Pricing Strategies
Without optimized hotel pricing strategies, you will not be able to increase OTA bookings for your hotel. Pricing strategies need to involve all the OTAs, direct bookings, and other sources of bookings. An adaptive hotel pricing strategy is the best pricing strategy.
11. List On Different OTAs
If you want to increase OTA bookings for your hotel, you need to be on many OTAs. Being listed on fewer OTAs can hamper your hotel revenue. Every OTA has its strengths and weaknesses.
Some OTAs are great for the domestic market while others are great for the international market. Identify and list accordingly.
By following these tips, you will be able to increase your hotel's OTA bookings. OTAs have now emerged as a major source of hotel bookings and hotel revenue. Even though you have to pay commissions, it is a small price to pay for listings and potential business generation.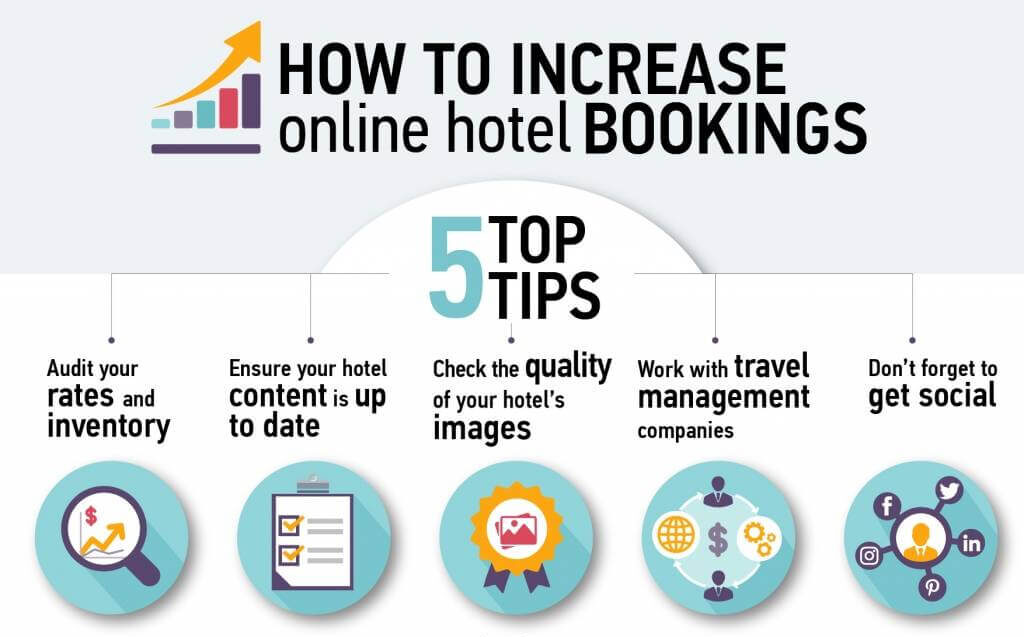 Revgrow360 is here to help you with OTA and revenue management. We are a one-stop solution for all your hotel management and marketing needs. Read more to know about the various aspects of the hospitality industry, its trends, problems, and solutions.
If you are Also Suffering with How To Increase OTA Bookings For Hotels then do not hesitate to Call us as our charges is very Low.
Please find the best rates below. We have 3 modules for our client: –
Per night room booking: Rs.250 per night.
Fixed amount: Rs.14999/- per month.
Fixed commission (10) per cent every month on total revenue.
The channel manager charges an Extra 3500+ tax per month will be provided as a complementary Basis.
If you are Worried About How To Increase OTA Bookings Click The Contact Button Below to Connect With Us.
We are sorry that this post was not useful for you!
Let us improve this post!
Tell us how we can improve this post?